Come join your global family as we celebrate that
JESUS IS LORD
9-16 JUNE 2023 INDIANAPOLIS
Be part of the largest NMI Convention in history!
All delegates will fully participate in the global NMI Convention, whether virtually or in-person. In 2017, 41% of the eligible NMI delegates were able to come to Indianapolis and participate in the Global NMI Convention. Technology has continued to develop and improve, providing new ways to connect and conduct business.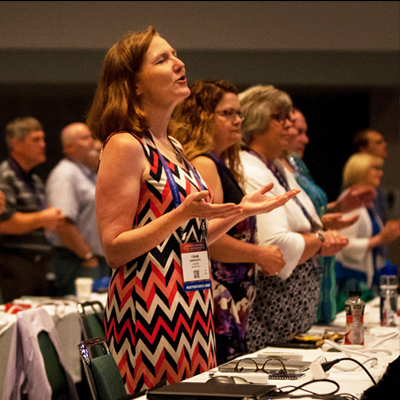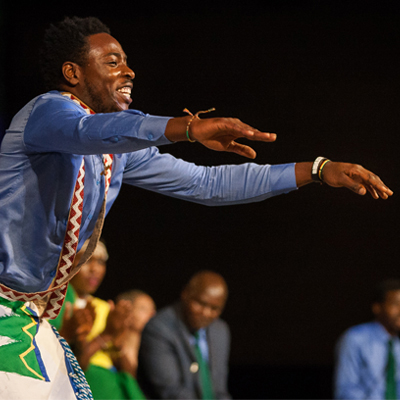 JOIN US IN INDIANAPOLIS IN-PERSON OR ONLINE
Convention Schedule
---
April 2023 — Online Only
Plenary Sessions
Legislative Committees
9 June - 12 June — Online & in-person in Indianapolis
All NMI delegates participating in-person in Indianapolis should arrive on Thursday, 8 June 2023 for registration, which will begin Friday morning, 9 June 2023. The convention will begin at 1 p.m. on Friday, 9 June and will conclude at noon on Monday, 12 June 2023.
The plenary sessions will include prayer, updates from the regions, plans for the future, election results, and legislative action. It will be a time of inspiration, information, and conducting business.
The convention sessions in Indianapolis will be overlapping and interspersed with General Assembly plenary and committee meetings. It is possible to be a General Assembly delegate and an NMI convention delegate.
Certificate of Election Forms
District Leaders: As your district prepares to elect delegates for the General Assembly and Conventions, please click on the link below to find the Certificate of Election forms. You will need to complete these forms in order to report delegate names to the General Secretary's office. Resolution forms and General Board Nomination forms are also available via the links.
TELL ME MORE ABOUT
We will post here as soon as we know if this will be possible.
There will be inspirational worship services on Sunday morning and in the evenings on Friday, Saturday, Sunday, and Monday. NMI will be highlighted in the Friday evening service.
This hands-on ministry project in Indianapolis will have a NMI option that will allow delegates to participate beginning on Tuesday, 13 June. NMI delegates will not be able to participate in Love Your Neighbor during the Global NMI Convention. Click here for more information.
The purpose of the Buddy Plan is to facilitate international delegates' participation in the Global NMI Convention. Buddy Plan funds will be used to support costs associated with participation in the Global NMI Convention, click here for more information.
Send donations marked AMS1069 on the memo line, to the following:
United States (checks made payable to General Treasurer, Church of the Nazarene):
Global Treasury Services
P.O. Box 843116
Kansas City, MO 64184-3116
Canada (cheques made payable to Church of the Nazarene Canada):
Church of the Nazarene Canada
3657 Ponytrail Drive
Mississauga, ON L4X 1W5
Africa, Asia-Pacific, Eurasia, Mesoamerica, and South America Regions:
Send donations to the regional office, where funds will be forwarded to Global Treasury Services at the Global Ministry Center. Funds should be marked Buddy Plan or AMS1069.
NMI delegates elected to the 2023 Global NMI Convention are to be based on the NMI membership reported at the district NMI convention when the delegate election takes place. It is anticipated that every NMI delegate will participate in each session of the convention including the online sessions prior to Indianapolis. Certificates of Election must be submitted by 31 December 2022, click here for more information.
It is not necessary for a district to present a resolution to the Global NMI Convention. If a district determines a resolution is essential, they must be received by 1 August 2022. Click here for more information.
It is not necessary for a district to present a name to represent their region on the global NMI council. If a district determines they would like to submit a nomination, click here for more information. Nominations must be received by 1 October 2022.
During our time together in June, workshop sessions will be released virtually in the primary languages of the church. This will allow the global church to hear the workshop, not just those present in Indianapolis. There will not be any workshops presented live during our time together in Indianapolis.